Reading Hour : 'Vachan Prerana Divas'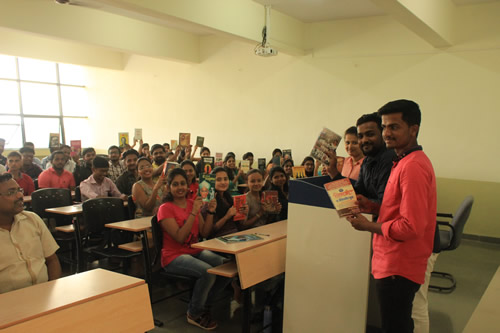 Tuesday, 15th October 2019
Coordinator(s): All Staff Members
Target Participants: All the students, teaching and non-teaching staff of VIIT, Baranati
No. of Participants: 200
Venue: VIIT, Baramati
Time& Duration: 10.30-11.30 am. and 2.30 to 4.00 pm.
Objective(s): 1. To cultivate habit of reading among the students and staff members.
2. To celebrate birth anniversary of Hon. APJ Kalam as 'Vachan Prerana
Divas'
Outcome(s): The reading hour is followed for students from 10.30 to 11.30 in all the classes of MBA and MCA programs. During the hour, students come up with books and shared information about the book and author followed by reading few pages from the book. During 2.30 to 3.30, all staff members read books on various topics and shared information about books and authors. On this occasion all the participants took an oath for consistent reading.
Conclusion: The programme concluded with tea served to all the participants.