Guest Session on the topic "New Education Policy"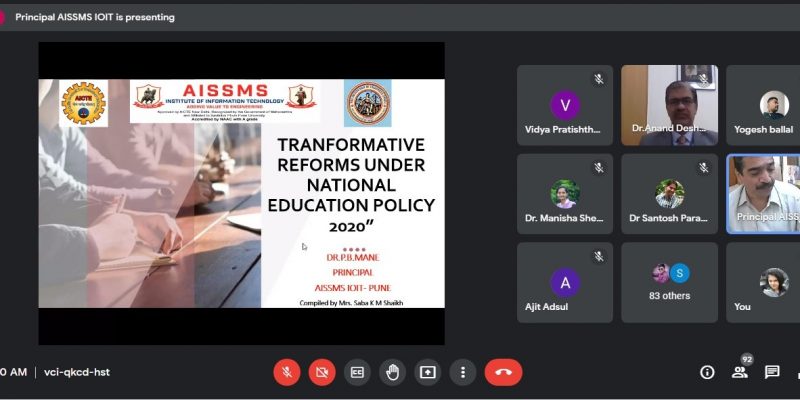 Guest Session on the topic "New Education Policy" by Dr. P.B. Mane Principal, AISSMS IOIT, Pune

Day Thursday
Date 11/11/2021
Time 11.00 am to 12.30 pm.
Venue VIIT, Baramati (Google meet Platform)
Name of the Coordinator Mr. Sagar Nimbalkar
Target Participant Students of MCA, MBA and all the staff members of VIIT
No of Participants 90
Objectives
1. To make students and staff members aware of New Education Policy of India
2. To celebrate National Education Day
3. To provide platform for discuss on NEP

Briefing On the occasion of National Education Day, 11th November, Vidya Pratishthan's Institute of Information Technology, Baramati organized a Guest session on New Education Policy for all the students of MCA and MBA program as well as staff members of VIIT.

At start of the session Dr. Anand Deshmukh, Director, VIIT welcomed all the students and staff members and briefed them about National Education Day and background behind celebrating it on 11th November.
The session was conducted by Dr. Pradeep B. Mane, Principal, AISSMS IOIT, Pune.

During the session Dr. Mane gave a very comprehensive insight regarding new education policy especially structure of the policy, things to be done on the part of Government and Higher Education Institutes for successful implementation of the policy.

During the sessions students were interacting through questions and answers. All aspirants expressed their satisfaction towards the contents delivered during the session. After the session a quiz comprising 50 questions was conducted to determine the awareness of participants regarding the education system and new education policy of India. Prof. Sagar Nimbalkar Coordinator IQAC, coordinated the session.