International Women's Day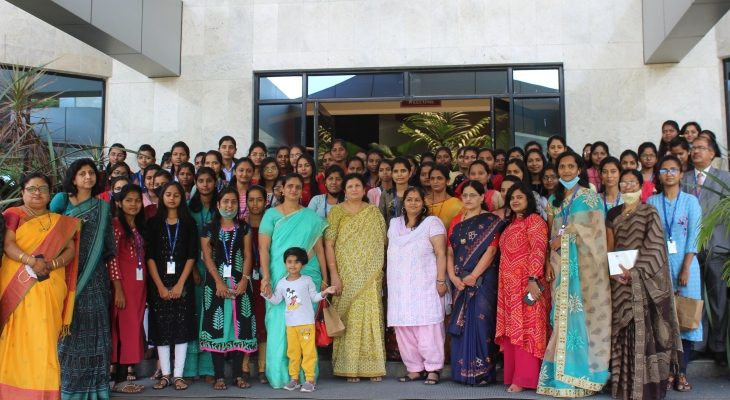 Event Title
International Women's Day
Day
Tuesday
Date
8th March 2022
Time
10:00 am
Venue
VIIT Auditorium
Name of the Coordinator
Dr. Manisha Shelkande
Target Participant
MBA and MCA girl students, invited guests & women staff members of VIIT, Baramati.
No of Participants
69
Objectives
To celebrate International Women's Day.
Details
On the occasion of International Women's Day, lectures were organized to guide the girl students towards holistic development. For this program we invited Chief Guest – Adv. Neelima V. Gujar, Secretary of Vidya Pratishthan, Baramati and Guest of Honor & Speakers: Dr. Vrushali Adsul, Practitioner Doctor, Baramati, Mrs. Amruta Bhoite, Police Hawaldar, Baramati Police Station, Mrs. Prerna Kumari, Branch Manager, SBI, Baramati & Mrs. Anita Gupta, Service Manager SBI, Baramati.

In Chief Guest address, Adv. Neelima V. Gujar said that girls should develop their personality to gain confidence, not focus on external beauty, but enhance your inner skills, enhance the beauty of knowledge. Advise to be strong, prosper and reach the goal.Dr. Vrushali Adsul guided the students about youth consciousness. We have to live with many things in mind and that awareness is the golden key to our future life. He said that the future life is happy and loving by combining readiness, sincerity and radiance at a young age.State Bank of India, MIDC Baramati Branch Service Manager Mrs. Anita Gupta and Branch Manager Mrs. Prerna Kumari said that if you want to do a good job, don't think of many things at once, give yourself time, be introverted for a while, only then you will be able to balance both home and work.The program was ended with Vote of thanks.